My Friends Boats!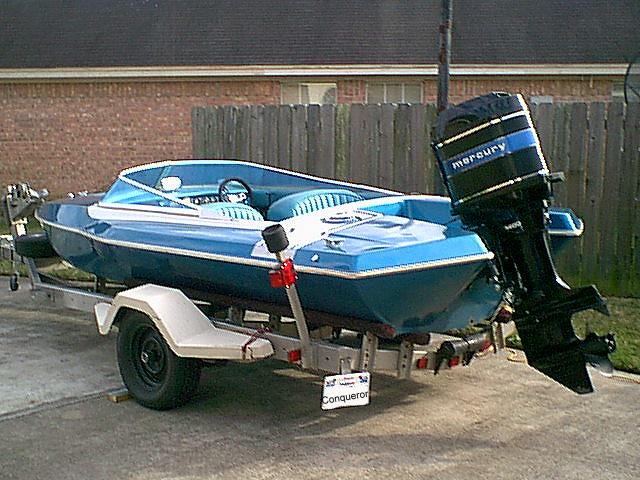 Well Folks this beauty belongs to my friend Kyle Todd
Would you drive from Texas to Michigan to buy a boat? Well he did. Follow along as Kyle comes to the north country and see's the Conqueror for the first time!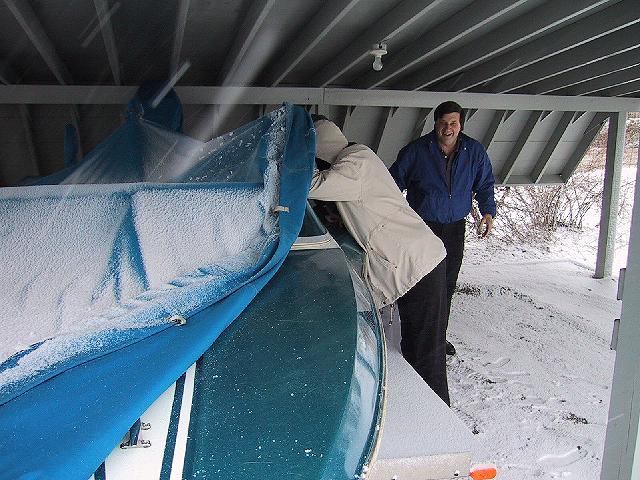 Pulling the cover off... Notice the snow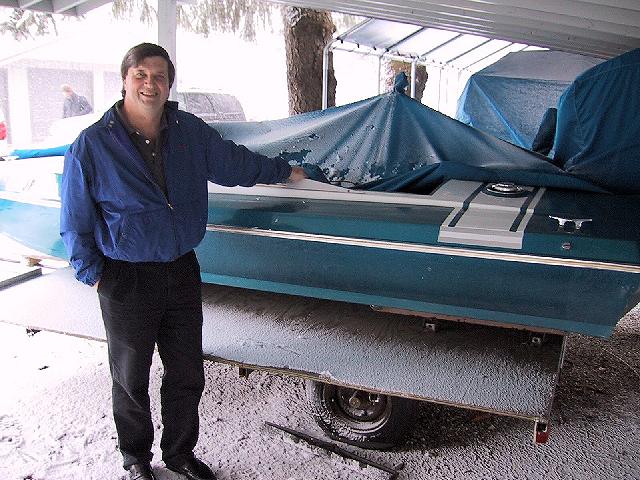 Can't tell if Kyle's happy can you???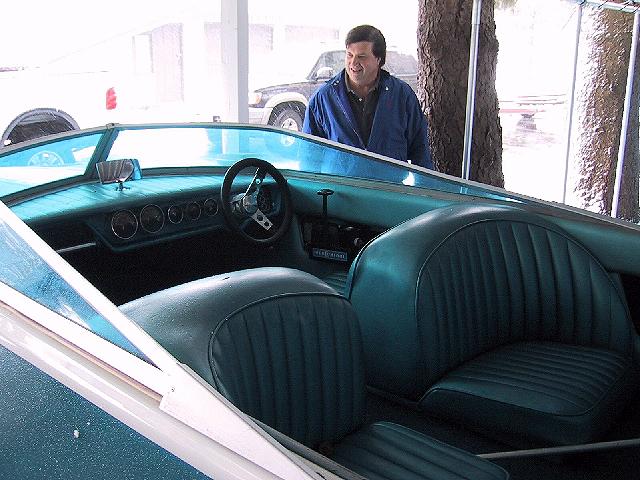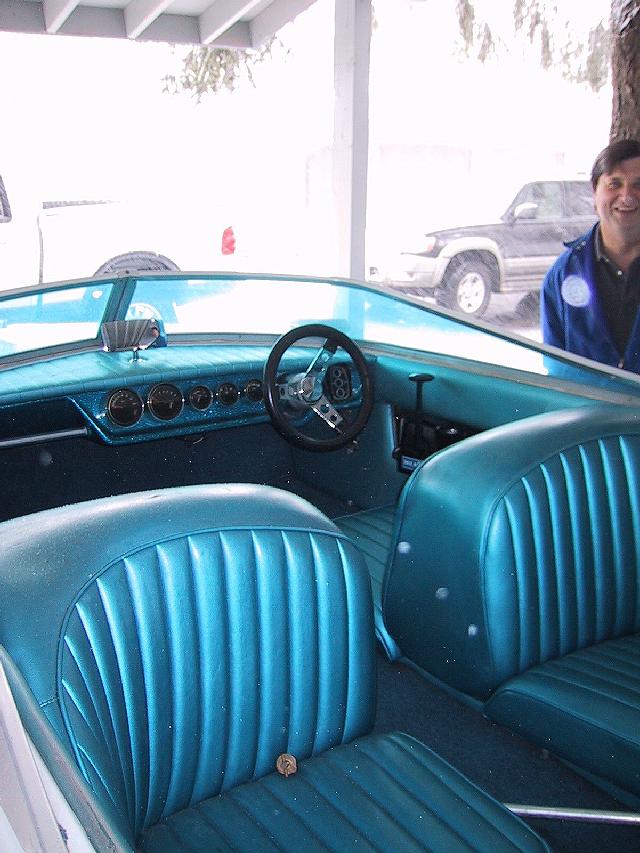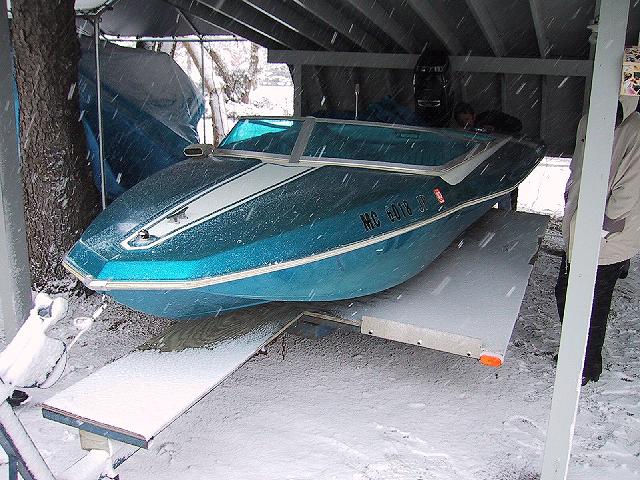 You can see it snowing in this picture it was really coming down..
Yes I was there too........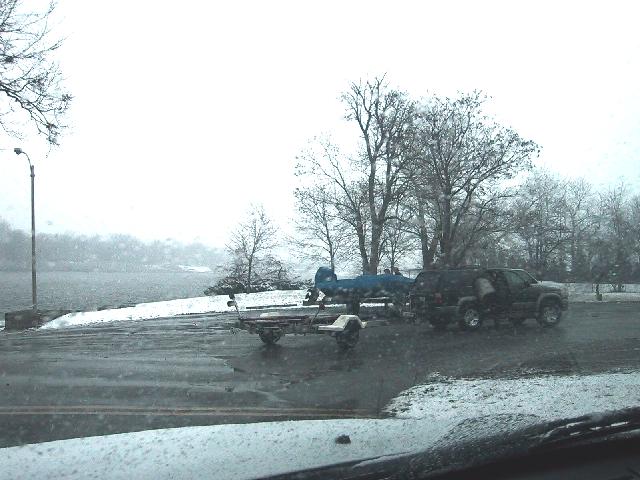 shot thru the windshield to protect the camera from the wind and snow. We couldn't talk Kyle into going for a ride.... Wonder why?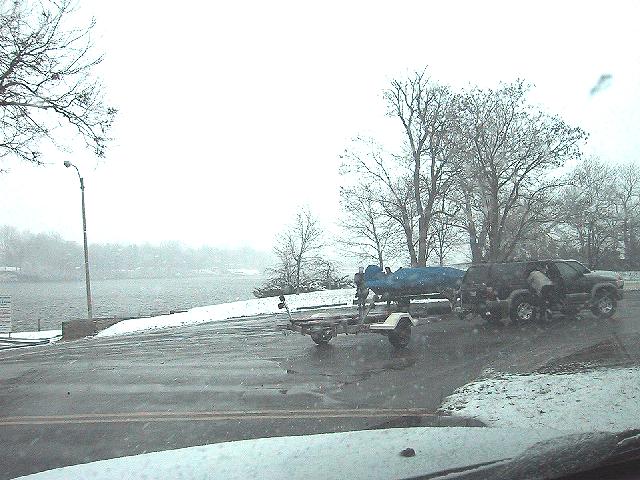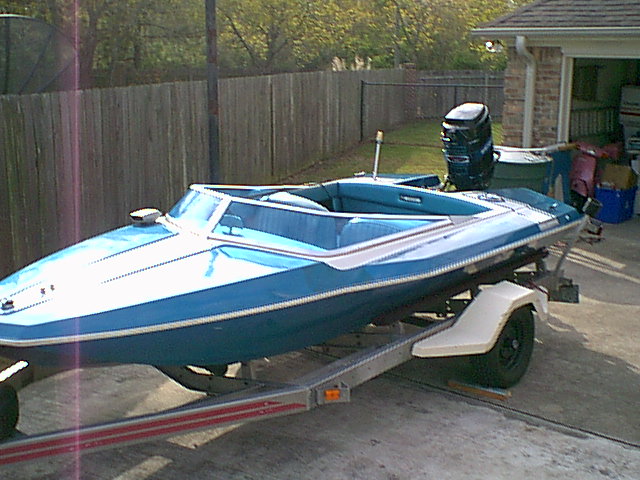 Back in Texas.. Well it will stay warmer that's for sure!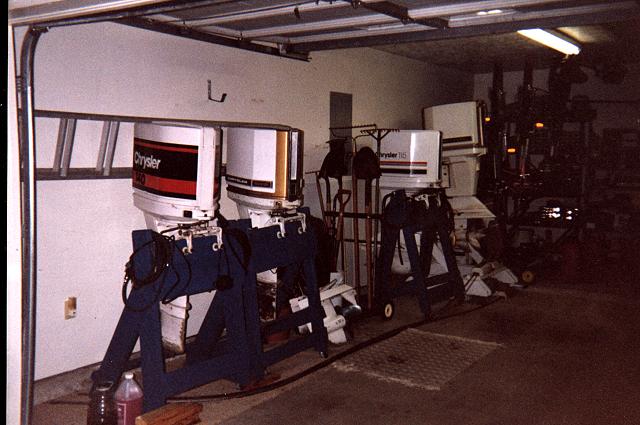 From left to right
1982 140 hp, 1973 105 hp, 1978 115 hp, 1976 135hp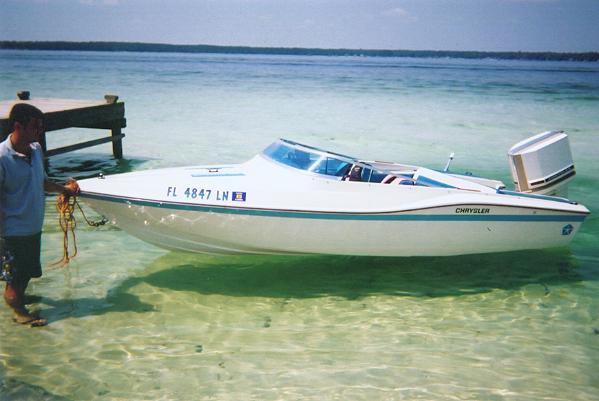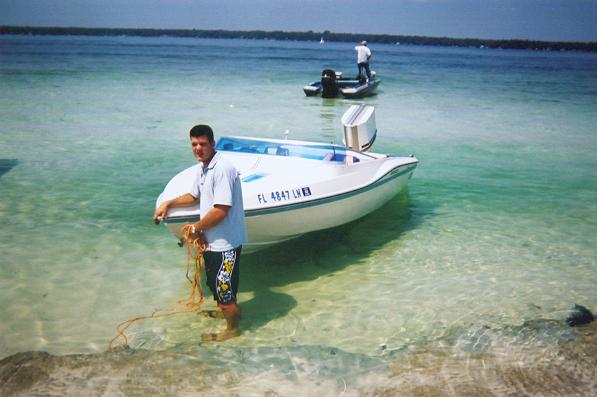 This 1974 Conqueror belongs to Randy Jaerger of Florida. Randy is the second owner of this original Conqueror after receiving from his father ( the original owner) for serving in the Gulf War. It was originally purchased in Fort Collins, Co, ( One of my favorite towns BTW) and now spends it's time in the warm waters of Florida.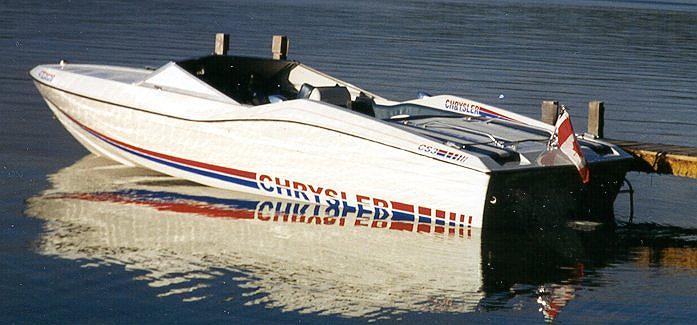 This Beauty belongs to Tom Stopes of Ontario Canada
It is a 340 jet all original Chrysler pump. It is a Conqueror S-III. I found this gem in a field with weeds growing through the bottom. It has
been restored from the Styrofoam up. Totally redone by the family, which took 6 years to complete. It is thru hull exhaust with an awesome sound at 58 mph.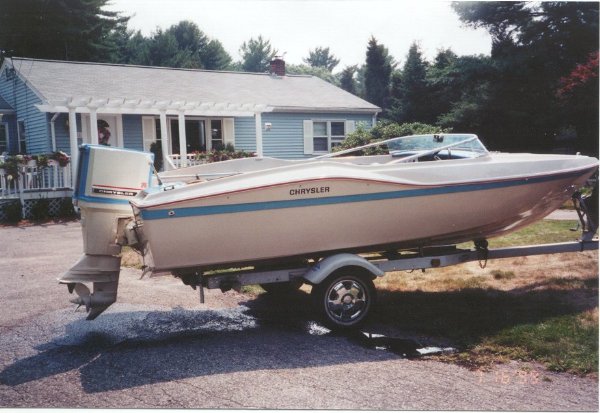 Curt Raffi lives in Massachusetts and bought it over the phone after seeing a few photo's
of the boat. The boat was from Strongsville, Ohio. What a Nice original boat! Here are 3 more photo's!!!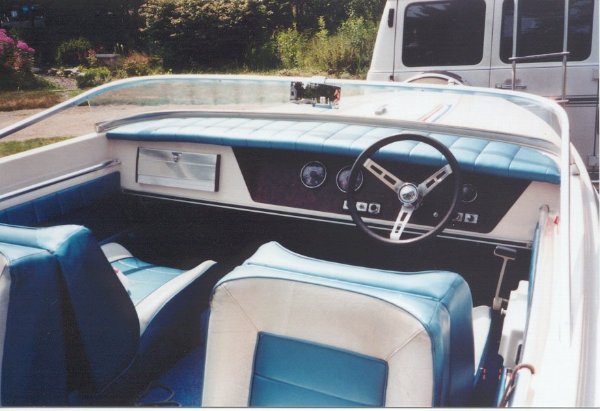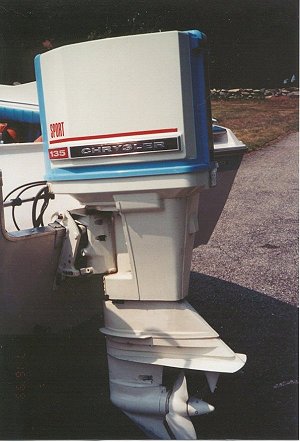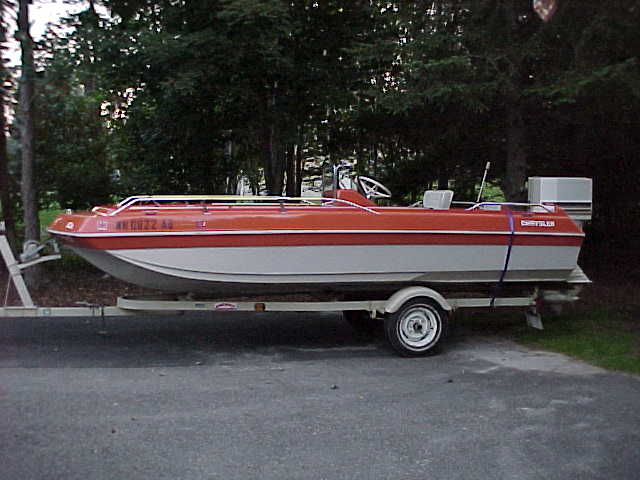 This boat Belongs to Derek and Lynn ( for Now anyway LOL )
They are from Massachusetts and Love their Pumpkin colored Funster..
It was Featured in the 2001 Chrysler Crew Calendar ( October of course )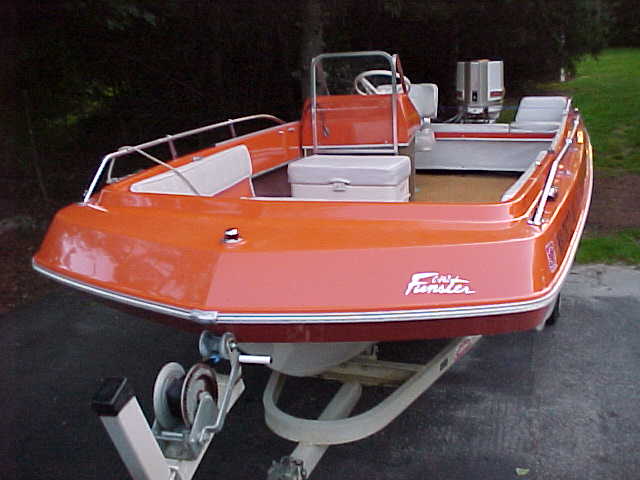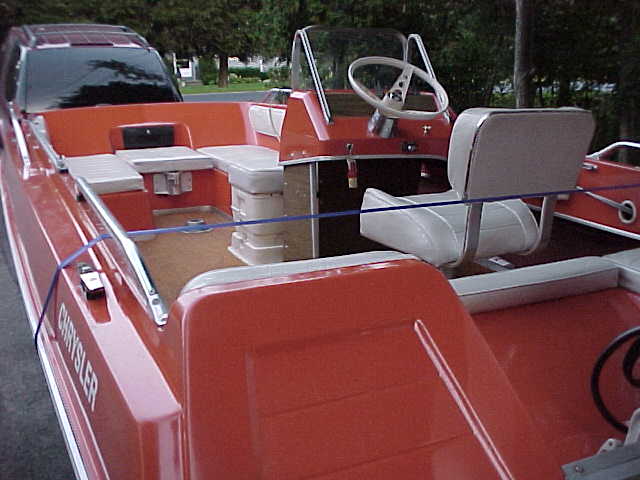 Mike Ranelli from Smith Mountain Lake, Virginia owns this 1969 Chrysler Hydro Vee Charger 151
It's a work in progress as he needs a new Motor and some floor work.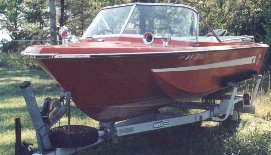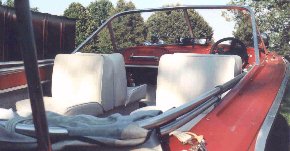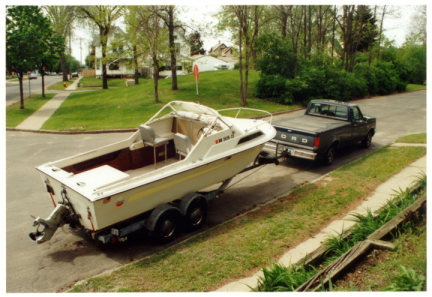 This boat belongs to Roger Anderson, Roger is the 1st person I met online with a interest in
Chrysler Marine stuff. Roger is from Minnesota. Kudos' Roger!!!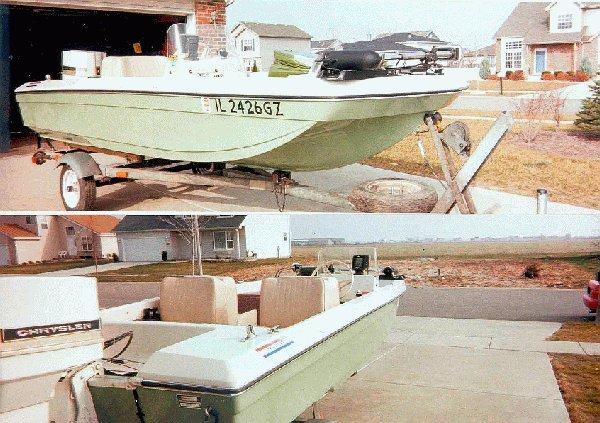 This Boats belongs to John Janachowski and is a Sport Valiant Model 302
Nice Looking Boat!
Here's a pic of Chris's Boat...1977 Cadet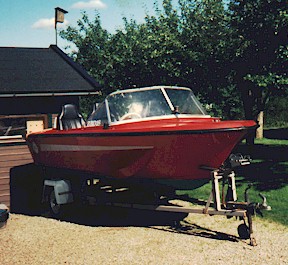 Ronnie Isacsson from Sweden owns this 1969 boat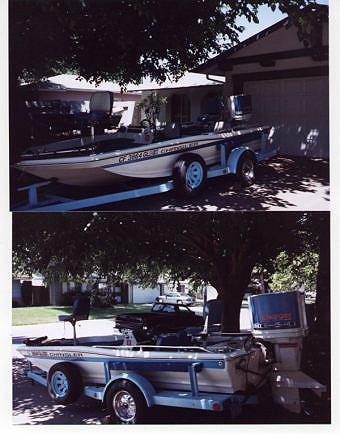 When Matt Horner wants to Scare the Bass He heads out in his Chrysler Bass Boat.
Matt is from Sacramento, California, GREAT looking Boat Matt !!!!!!!


If you want your Boat here e mail me a photo and the spec's of the boat