Hurrikain Marine Products

5790 Lawndale rd.
Saginaw, MI 48604
989-529-8436

206-203-0047

FAX
We specialize in Chrysler Marine!
Vertglas Gel Coat Restoration System and Marine Maintenance Products
Quality Vertglas marine maintenance products are the best choice for all your marine cleaning and protection needs. Vertglas marine products are 100% guaranteed. Clean and protect your boat with the best!
State-of-the-Art Gelcoat Restoration System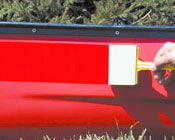 The Vertglas Gel Coat Restoration System utilizes Vertglas Color Restorer/Sealer, a copolymer coating, not a wax or polish, to provide a glossy and protective sealed surface that resists oxidation and fading much longer than ordinary paste or liquid wax – and can be applied just as quickly. With Vertglas your fiberglass will stay glossy and resist oxidation all season long. Vertglas Color/Restorer Sealer can be used on fiberglass, stainless steel, aluminum, brass and plastic, but is most impressive when used on a gel-coated surface which has lost its original luster and color due to oxidation. Your boat will stay brighter and glossier with Vertglas.
The Vertglas System removes oxidation, dirt, grime and penetrates into the porous gel coat to seal out air and protect the surface from future oxidation. Conventional waxes and polishes merely sit on the surface of the gel coat and do not seal out air – or future oxidation.
This System, consists of four components that are formulated to work together. The first two, Vertglas #1 Oxidation Remover and #2 Boat Wash, remove the oxidation, dirt, grime and prepare the surface for coating. Vertglas #3 Color Restorer/Sealer is applied by simply wiping it on with the applicator. There is no rubbing or buffing! Each coat dries in less than a minute and you can see the shine build with each coat. Vertglas #4 Sealer Remover is used to remove the Color Restorer/Sealer in case you accidentally seal in dirt or oxidation.
Our Kit (which includes the Scrub Pad, Special Applicator, and How-To Guide Manual) contains enough Vertglas to restore up to a 25 foot boat. Once you have applied Vertglas, maintenance is easy. Just clean your boat regularly with Vertglas Boat Wash. The finish will stay brighter than if you waxed it every month. The next season, just wash your boat and apply another two coats of Color Restorer/Sealer to refresh the shine.
Gelcoat Restoration System
If your gel coat is faded, oxidized and chalky, and you are tired of waxing your boat every month or just watching it fade throughout the season, this state-of-the-art Gel Coat Restoration System from Lovett Marine is what you are looking for. One kit will do up to a 25' boat.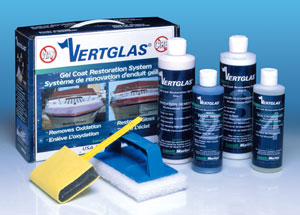 Item #10500A
KIT INCLUDES:
16 oz. Vertglas #1 Oxidation Remover
8 oz. Vertglas #2 Boat Wash
16 oz. Vertglas #3 Color Restorer/Sealer
8 oz. Vertglas #4 Sealer Remover
4" Special Applicator
Scrub Pad
How-To Guide Manual


Currently out of Stock
Only $58 plus shipping